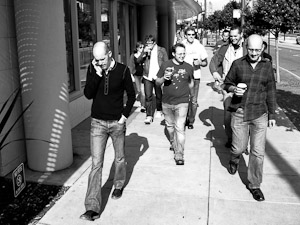 Peo​ple
Built on the premise that good people know good people, our team is an assembly of ex-coworkers, friends, and family, who all wake up excited to do what we love.
You should come on by sometime.
Open Jobs
We're always interested in talking to enthusiastic, savvy people who know their way around the web. If you're a fellow traveler, send your resume to jobs@labzero.com.
We're a team with simple needs. We love our Fridays, because it's the one day a week the whole team comes together in one room. Getting the whole team into one room inevitably leads to a few things: a good lunch, a chance to reflect on the events of the week, and a little knowledge dropping about some of the things we're discovering. Here are a few recent topics of discussion.
Chris Greacen

CEO

Chris Greacen

CEO

Chris enjoys solving problems.

Prior to coming to Lab Zero, Chris was Director of Engineering at Betawave (formerly GoFish Corporation), Chris steered the technology strategy supporting ad targeting, content syndication, and partner integration. Before joining GoFish, he defined and led the quality program for Donnerwood Media's launch of Meez.com, a 3D avatar site that scaled to handle over a million members within 1 year. Prior to Donnerwood, Chris was the Sr. QA Manager at Kodak Gallery, where he hired, trained, and managed onsite and offshore QA teams responsible for Kodakgallery's services in US, EU, and China. Chris earned his degree from Boston University.

Dean Baker

Co-founder

Dean Baker

Co-founder

Dean enjoys bringing together talented engineers, product strategists, writers and designers to create delightful experiences. He currently focuses on design thinking and strategy.

Prior to Lab Zero, Dean's work included leading development for DNA Ancestry, managing front-end development for Kodakgallery's mobile and premium services in the US and EU, and designing and developing enterprise apps for BroadVision. Dean earned his degree from UC Santa Barbara.

Matt Wilson

CTO

Matt Wilson

CTO

Matt is an enthused agile developer, architect, and consultant. He enjoys building elegant web services in Ruby. He believes that high-fives are underrated and measures the success of his day by how many he's seen.

Prior to joining Lab Zero, Matt's work history includes: Co-founder/Architect at Earfl.com, Architect at Kodak Gallery, Developer at Westwave Communications, Engineer at Motorola, and Developer at Coldwell Banker.

Paige Morrison

Co-founder

Paige Morrison

Co-founder

Paige is an engineering manager, web developer, and consultant. At Lab Zero, Paige contributed to the development of DNA Ancestry and built several key front-end components.

Prior to Lab Zero, Paige provided web development consulting to ProductCore and PurePlay.com. She worked with Dean and Jonathan at Ofoto (now Kodak Gallery) where the three of them built an efficient, motivated web development team. During her five-plus years at Ofoto, Paige rapidly moved into a leadership role and a management position in the engineering department. Prior to Ofoto, Paige developed online donation and volunteer matching software for 4charity.com, a service provider to non-profit organizations. She graduated from Colby College with a degree in Computer Science.

Shiun Hwang

Software Engineer

Shiun Hwang

Software Engineer

Shiun has over 12 years of software development experience. His current passion is iOS development and mobile development in general. He is a strong advocate for balance between design and function. In his free time, he enjoys traveling and experiencing new cultures, learning to cook newly discovered recipes, and being a weekend warrior playing softball.

Prior to joining Lab Zero, he worked at Spirent Communications as a Protocol Engineer developing web traffic generators for testing appliances. He also worked at Blue Coat Systems as a Proxy Engineer. He has multiple applications published in the Apple App Store. He also has a Bachelors and Master of Science Degree from UCLA.

Ned Holets

Lead Software Engineer

Ned Holets

Lead Software Engineer

Ned has a passion for development be it web, iOS, kiosk or microcontroller. When he's not at the pier, he enjoys backcountry backpacking, making blinking things and fly fishing.

Prior to joining Lab Zero, Ned was a published chemist, led development for Wondermill Webworks and worked at a custom crush winery. He holds a degree in Chemistry from Reed College.

Brien Wankel

Principal Engineer

Brien Wankel

Principal Engineer

Brien is a seasoned software architect with a passion for elegant code. He has over 15 years of internet-related software development experience. Prior to joining Lab Zero he has most notably been a Platform Web Services Architect at Outspark, Inc, a platform engineer at Yahoo, and Co-Founder of Sureshot Hosting.

A transplant to the Bay Area, Brien calls San Francisco home along with his wife and their two sons. When not writing code, he is an amateur athlete, a part-time printer, an aspiring mechanic, and a lover of music. He is confident that the next wave is the one that will finally gain him a coveted spot on the unofficial Lab Zero surf team.

Jeffrey Carl Faden

Software Engineer

Jeffrey Carl Faden

Software Engineer

Jeffrey is a front-end web developer, well-versed in cutting-edge HTML and related technologies. Jeffrey enjoys sugary foods, cute animals, video games, and putting web sites together at blazing speeds.

An HTML creator since he was nine, Jeffrey most recently worked as a developer for Linden Lab in San Francisco. During his educational career, he studied Computational Linguistics at University of Washington, Seattle, and University of California, Santa Cruz. He also spent several years teaching a free class on front-end web development at Noisebridge Hackerspace.

Sasha Voynow

Principal Architect

Sasha Voynow

Principal Architect

Tracey Thompson

Designer

Tracey Thompson

Designer

Tracey is a well-rounded designer with a background in visual design, user experience, print, and environmental graphics. She has worked with clients such as IDEO, McGraw-Hill, and Visa.

Tracey enjoys working on a variety of projects and loves the collaborative environment Lab Zero provides. As a designer, Tracey likes to take things apart and figure out how to make them both work better and look sharper. Outside of the office, Tracey is a founding member of the unofficial Lab Zero surf team.

Jim Ochsenreiter

Designer

Jim Ochsenreiter

Designer

Throughout his career, Jim has witnessed the transformative power good design has on small and large organizations, individuals and cultures. While technology and trends continue to evolve, the classic elements of type, form, color, image, and the written word have combined with his curiosity about history and culture for a constant source of inspiration and growth.

Jim's experience includes brand identity, corporate communications, strategic marketing, web, mobile and UI design, large scale business and publishing systems, print management and production.

César Idrovo

Business Solutions

César Idrovo

Business Solutions

César's natural fluency in software and finance domains made him popular with both of those tribes at the start of his career. A bunch of degrees probably helped a bit, too. A couple of decades later, he now helps leaders improve the flow of business value end-to-end and innovate, and not just in their software engineering teams.

The first half of his career was dominated by some of the largest financial institutions in the world so his consulting experience naturally includes household names in a few more of those. His client roster also spans startups to Fortune 10 companies, across numerous domains: payments, avionics, food retail, IT services, learning/education, customized marketing, fashion, e-commerce, renewable energy, manufacturing and others.

Seth Freeman

DevOps Engineer

Seth Freeman

DevOps Engineer

Seth wears many hats. Depending on his mood, you might see him in a baseball cap, a cowboy hat, or even a beanie if the conditions are extra-cold … or extra-hipster.

He wears a techie hat when he's bringing his decades of experience and expertise in software configuration, quality assurance, management, and technical writing to the evolving world of DevOps at Lab Zero. He wears his LinkedIn hat when he tells you about his prior work history at Ofoto, Kodak, DoughNet, Wadsworth, Course Technology, and many consulting clients large and small. He wears his Hollywood hat when producing videos for himself or clients. He wears a rockstar hat when he's, well, being a rockstar.

He wears his loving husband hat when he's building chicken coops and garden beds for his beautiful wife. He wears his outdoorsy family man hat when he and his wife take the kids camping at the beach or in the mountains. He takes his hats off when he sleeps, unless it's cold and he's sleeping outside.

Michael Jelks

Software Engineer

Michael Jelks

Software Engineer

Michael is a software engineer with over 10 years of experience in full-stack web development. Prior to Lab Zero, Michael has been involved in the direct development at multiple startup environments, where he was responsible for planning, implementation, and operations management.

In his spare time, Michael enjoys photography and is an avid cyclist. You can typically find him doing both somewhere in the hills along the peninsula.

Brian Johnson

Software Engineer

Brian Johnson

Software Engineer

Brian is a full-stack web developer with a passion for elegant code and test-driven development. Although Ruby remains his primary language, he also enjoys developing Javascript apps with Node.js and is excited by the possibilities there. Prior to joining Lab Zero, Brian worked with a variety of clients as a freelance developer, including Cisco Systems and the startup Reality Labs, Inc.

When he's not coding, you can usually find Brian climbing, hiking or camping somewhere in the Sierras. He loves to write and is always working on his next story. Brian graduated from Duke University, where he studied biology with a focus on neuroscience. He remains interested in the subject, loves to work its themes into his writing, and always remembers to wear his helmet when he's on his motorcycle.

Aaron Cripps

Agile Product Owner

Aaron Cripps

Agile Product Owner

Aaron is a results-oriented creative who defines strategy and leads product initiatives.

Hands-on from concept to release, he partners with teams to discover the confluence of business and customer goals through testing & collaborative agile development. His natural habitat is a fast-paced startup centered on creating valuable experiences through research, experimentation and iteration.

Aaron has developed products across many industries and platforms including web, mobile, education, and AAA games. He established the user experience team at PagerDuty, built a global digital platform for KidZania, art directed a virtual world at Meez.com, and animated on The Sims 2 at EA.

Adam Ducker

Software Engineer

Adam Ducker

Software Engineer

Adam is a front end developer with over ten years experience writing HTML, CSS and JavaScript for a variety of platforms. He lives in Arkansas with his wife, Whitney, and their three children.

When he's not working he enjoys cooking and baking vegan food. #aquafaba

Stacy Suits

Designer

Stacy Suits

Designer

Stacy is a ux/visual designer with over 12 years experience as a graphic/web designer. Just prior to joining the team at Lab Zero, she spent almost 5 years at Answers.com as a visual designer and about 2 years at Topix.com as a ux/visual designer. Before that, she worked at a news media site for 4+ years as an interactive design team lead. Outside of tackling web app and site design challenges, Stacy enjoys playing her acoustic guitar, sketching random cartoon characters, and walking her two, cute and lazy, senior dogs.

Robert Adams

Software Engineer

Robert Adams

Software Engineer

In the Midwest, Rob got his start at the College of Veterinary Medicine at Iowa State first learning, then instructing educators on the use of Macromedia Authorware to develop interactive educational software. While there he created a web-based game which was profitable, fun and chock full of opportunities to develop and support web software at scale. He moved to Oregon in 2001 and in the time since has consulted for businesses such as Willamette Week, where he helped build solutions for integrating movie times and community events into the print process.

Rob previously worked as a senior software engineer at another established software development company, and client work brought him and his mutt down from the mountains of Southern Oregon to the Bay Area. Since joining Lab Zero in November of 2015, Rob has been excited to learn new technologies and better practices while also having increased opportunities to share some of the knowledge he's gained over his career.

In his free time, Rob enjoys contributing back to open source as well as more analog activities such as hiking, camping and traveling.

Chris Bucchere

Software Engineer

Chris Bucchere

Software Engineer

Chris has been developing software professionally for more than twenty years and through a half-dozen acquisitions. Prior to Lab Zero, he led engineering efforts at companies ranging from 8-person startups to Walmart.com. He started a Plumtree-focused services company in 2003 and ran it for a decade, coding and doing devops for customers that included Exxon Mobil, Merck and the CIA.

Outside the office, Chris is a democracy activist, a CSA organizer and a lindyhopper who frequently writes about politics, food and dance — when he's not surfing.

Clayton Hopkins

Designer

Clayton Hopkins

Designer

Clayton is a UX and product designer, who enjoys strategizing, wireframing, and prototyping thoughtful design solutions for mobile and web. Prior to joining Lab Zero, Clayton freelanced for a number of lean and mean startups in the greentech, consumer, eCommerce, and biotech spaces.

Outside of Lab Zero, you can find Clayton cycling year-round on the beautiful roads of Northern California, swimming with the San Francisco Tsunami's, or watercoloring in sunny (and sometimes foggy) Dolores Park.

Kate Bennet

Product Owner

Kate Bennet

Product Owner

Kate is a product leader who enjoys bringing teams together to solve complex problems and ship user-focused software.

She has developed products across industries and platforms, from governments to startups and web to mobile. She previously led growth and retention projects at Imgur, headed up Product at Mindjet and managed innovation in the UK government. She enjoys speaking at Product meetups and mentors aspiring PMs.

Outside of Lab Zero you can find Kate paddle boarding in the bay, providing kayak support for San Francisco's Dolphin Club swimmers, hiking and tinkering.

Jennifer Lyn Parsons

Software Engineer

Jennifer Lyn Parsons

Software Engineer

Jennifer is an experienced front-end developer from New Jersey who loves JavaScript, thorough documentation, and the creative act of building things with code. Her "always be learning" attitude has led to a wide range of programming experiences and is how she ended up falling in love with Clojure and writing a text-based RPG game engine.

Her previous work is in the eCommerce space building online experiences and optimizations for clients such as 1-800-Flowers and Target.

When not coding things, she writes books, runs a publishing company, plays video games, and makes things out of wool. Sometimes she sleeps.

Nicole Scherm

Software Engineer

Nicole Scherm

Software Engineer

Nicole is a software engineer with a focus on front-end web development. They have a passion for making information meaningful and relatable, developed while earning an undergraduate degree focused on cognitive neuroscience. As a generalist, Nicole enjoys jumping into projects where they can pick up new skills. Prior to working at Lab Zero, Nicole designed and developed websites and web apps as a freelancer, and previously built and maintained an internationalized web app at Samsung.

Outside of work, Nicole can often be found dancing, making stuff (everything from art to clothes to food), doing circus things, and volunteering in the local community. Nicole tried surfing years ago and is admittedly not very good at it.

In Memoriam: The One And Only Simon

Schweasel

In Memoriam: The One And Only Simon

Schweasel

Stick! No, really stick! Stick stick stick stick stick! Please? Pretty please? C'mon. Stick! Throw the stick!

Calvin Gibbs

Agile Product Owner

Calvin Gibbs

Agile Product Owner

Calvin collaborates to deploy user-centric solutions and thrives in fast-paced startup environments. He quickly synthesizes business and customer goals to deliver comprehensive customer-oriented solutions.

Calvin has developed products and deployed technical solutions across many business segments and platforms including Healthcare, Banking, eCommerce, Education, Networking, Security and Mobile Games. At Macys.com, Juniper and Norton.com Calvin delivered new user-defined experiences, and at KP.org, Wells Fargo and Machine Zone(MZ) created business solutions and tools that drove employee productivity.

Outside of Lab Zero you can find Calvin raising two teenagers with his wife, displaying a passion for the cosmos and working on his golf game.

Venkat Murali

DevOps Engineer

Venkat Murali

DevOps Engineer

Murali loves nature and spending time outside to find himself and to refresh his mind. He brings this refreshed mindset and experience to his DevOps work at Lab Zero. Early on he started his carrier as a linux administrator with a passion for new technologies which eventually led him to DevOps. He is comfortable working on new technologies when they come and uses these new ideas to resolve problems and save time. He is also a good son for his parents and used to do experiments with food whenever he got a chance. If he offers you one of his custom dosas give it a try!